Our great new personalised tribute to a child's love of their Mother (or Grandma!).
A heart-warming, amusing and sentimental tribute to all that is wonderful about Mummy!
Although we love our original pink flamingo Mummy book "Everything", this new book has really captured the hearts of many mother's already! The perfect keepsake for Mother's Day, Birthdays, Christmas or any special occasion where Mummy deserves her very own book. It is almost certain to bring a few tears, so have the tissues at the ready!
Ideal as a special gift for Grandma too!
You can choose the title of  book from Mummy, Mommy, Mama, Mami, Mom, Grandma, Granny, Nanny and many more.
The book is narrated by one child, or by up to five children. This style of personalised book is a "Mummy and me" gift designed to be read along with a child, so Mummy and the little ones can both enjoy together.
The book is personalised with Mummy's 'wonderful' character traits, interests and passions, as chosen by you. This really does make it a truly unique and personal family keepsake. It forms part of our family of bear books which include our best selling Daddy Book and The Greatest Christmas Gift Daddy Book.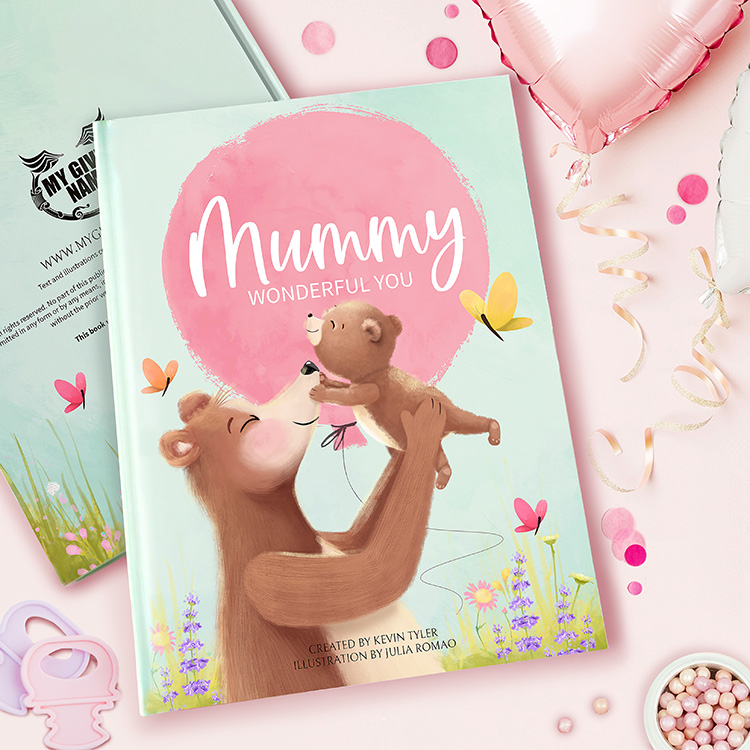 Binding choices
In the final basket screen, you can change from the default Premium hardbound book or the lower cost softbound (paperback). You can even upgrade to a luxury cushioned cover hardback. Prices from £23.00 softbound.
We recommend a hardback book if this is to be treasured as a long term family keepsake. Did you know we use a special PUR glue to make sure they are much more hard wearing and should last a lifetime, if handled correctly. Well worth the £3.95 upgrade!
Why not add a gift box to give it a special finishing touch. Silver foil embossed with our trademark and the words "handmade just for you."